Wedding Officiant Bonita Springs
About Naples Wedding Woman
Hi, I'm Rev. Maria Felipe - your wedding officiant in Bonita Springs, FL
I am thrilled to bring Naples Wedding Woman to South Florida continuing the legacy of LA Wedding Woman founded in 2004 (originating in the 1980's in Miami) and a company I had the honor to officiate for over 8 years while living in Los Angeles.
Moving to Naples in 2019 and being awe struck by the paradise setting of Florida, I quickly became very motivated to officiating again. So here we are! Naples Wedding Woman is born!
Getting married in Bonita Springs?
Great choice! The city of Bonita Springs is a gem. Having lived there myself for 2 years, I can only say great things about it. The beaches are great – super-white sand – and on top of it, the city itself is super quaint and manageable to get around. Little to no traffic and proximity to beach and wildlife is key for your wedding day. It's the perfect place to get married and to stick around for a couple of days, maybe even weeks for your honeymoon.
Here are 4 Reasons why getting married in Bonita Springs is a great idea
I'm pretty sure that every blog and directory out there mentions the Hyatt Regency Coconut Point Resort & Spa and while is it a great location – see picture – there are plenty of other wonderful venues to choose from. Attached is a list of the 20 best wedding venues in Bonita Springs. And also don't forget that you can have your wedding ON the beach itself while maybe saving a little on budget by choosing a hotel more inland and not directly on the beach. No matter which venue you choose, Bonita Springs is a gem.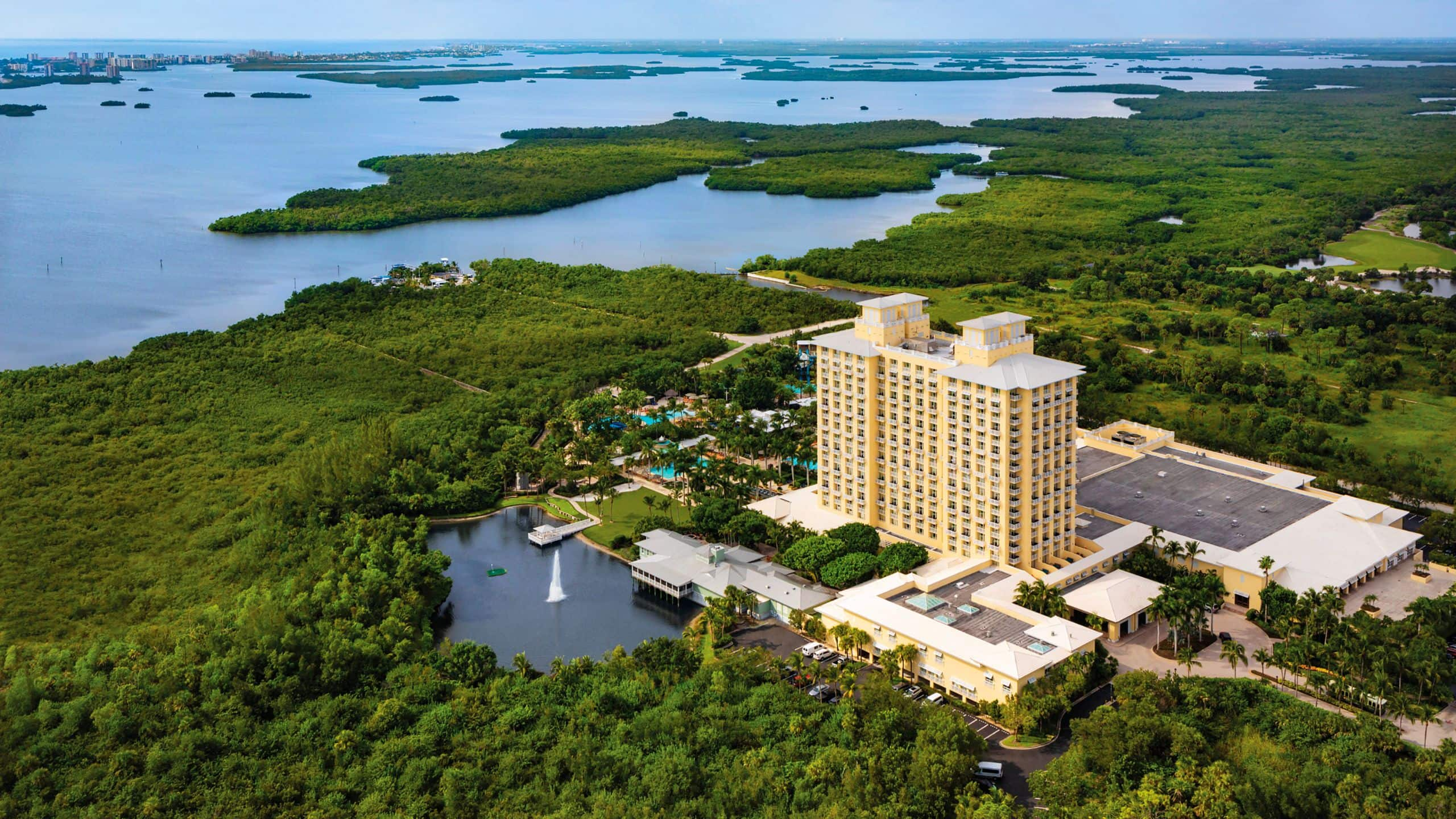 Reason 2 - Consistent Warm Weather
Let's be honest, no one wants to attend your wedding and dripping with sweat or freezing outside. Bonita Springs has seasons you want to visit and times you don't, at least for having your wedding. As you can see on graph on the right the times of the year people will be most comfortable at your wedding in Bonita Springs is anytime from October-May. So make sure you make you plan your wedding date and timing accordingly.
Reason 3 - Beach Proximity
One of the main reasons you might choose to celebrate you wedding in Bonita Springs is the proximity to the beach. You might in fact have a wedding entirely at the beach & retreat into a resort that is more inland to save a little on your budget vs. booking a super-expensive hotel right at the beach with all your guests. Bonita Springs has epic beaches, white sand and stunning sunsets (much better than the ones of East coast of Florida), because you can actually see the sun merging with the ocean at sunset – incredible sight for you and your guests.
Reason 4 - Little to no traffic
Another reason to plan your wedding in Bonita Springs is the fact that it is a manageable-size town. You won't find long traffic-jams here. This is another plus for making your wedding official here, because the last thing you want your wedding guests to experience is stress or traffic at your wedding location. No matter what you plan around your wedding apart from your ACTUAL wedding, it's easy to get around in Bonita Springs for any family/guest outings, seeing downtown or organizing an extended family dinner.
I hope these short reasons help you making a decision on your wedding location but with Bonita Springs it's quite hard to make a wrong decision. May you have blessed wedding  and if I can support you in officiating your wedding, let me know.
It would be an honor to be of service as your wedding officiant. You can read more about my wedding officiating packages here.
Ready to book your dream wedding officiant?